I've written before about both the desire for universal dc power and more simply universal laptop power at meeting room desks. This week saw the announcement that all the companies selling cell phones in Europe will standardize on a single charging connector, based on micro-USB. (A large number of devices today use the now deprecated Mini-USB plug, and it was close to becoming a standard by default.) As most devices are including a USB plug for data, this is not a big leap, though it turned out a number of devices would not charge from other people's chargers, either from stupidity or malice. (My Motorola RAZR will not charge from a generic USB charger or even an ordinary PC. It needs a special charger with the data pins shorted, or if it plugs into a PC, it insists on a dialog with the Motorola phone tools driver before it will accept a charge. Many suspect this was to just sell chargers and the software.) The new agreement is essentially just a vow to make sure everybody's chargers work with everybody's devices. It's actually a win for the vendors who can now not bother to ship a charger with the phone, presuming you have one or will buy one. It is not required they have the plug — supplying an adapter is sufficient, as Apple is likely to do. Mp3 player vendors have not yet signed on.
USB isn't a great choice since it only delivers 500ma at 5 volts officially, though many devices are putting 1 amp through it. That's not enough to quickly charge or even power some devices. USB 3.0 officially raised the limit to 900ma, or 4.5 watts.
USB is a data connector with some power provided which has been suborned for charging and power. What about a design for a universal plug aimed at doing power, with data being the secondary goal? Not that it would suck at data, since it's now pretty easy to feed a gigabit over 2 twisted pairs with cheap circuits. Let's look at the constraints
Smart Power
The world's new power connector should be smart. It should offer 5 volts at low current to start, to power the electronics that will negotiate how much voltage and current will actually go through the connector. It should also support dumb plugs, which offer only a resistance value on the data pins, with each resistance value specifying a commonly used voltage and current level.
Real current would never flow until connection (and ground if needed) has been assured. As such, there is minimal risk of arcing or electric shock through the plug. The source can offer the sorts of power it can deliver (AC, DC, what voltages, what currents) and the sink (power using device) can pick what it wants from that menu. Sinks should be liberal in what they take though (as they all have become of late) so they can be plugged into existing dumb outlets through simple adapters.
Style of pins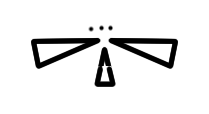 We want low current plugs to be small, and heavy current plugs to be big. I suggest a triangular pin shape, something like what is shown here. In this design, two main pins can only go in one way. The lower triangle is an optional ground — but see notes on grounding below. read more »