This weekend's announcement that Google had logged 140,000 miles of driving in traffic with their prototype robocars got lots of press, but it's not the only news of teams making progress.
A team at TU Braunschweig in Germany has their own model which has been driving on ordinary city streets with human oversight. You can watch a video of the car in action though there is a lot of B-roll in that video, so seek ahead to 1:50 and particularly 3:20 for the inside view of the supervisor's hands hovering just over the self-turning steering wheel. There is some information on Stadtpilot here, but we can see many similarities, including the use of the Velodyne 64 line LIDAR on the roof and a typical array of sensors, and more use of detailed maps.
The team at Vislab in Milan has completed most of their Milan to Shanghai autonomous car journey which I have been following. You can read their blog or watch video (sometimes live) of their trip. A lot of the blog has ended up being not about the autonomous challenges, but just the challenges of taking a fleet of very strange looking vehicles in a convoy across Eastern Europe and Asia. For example, they have trucks which can carry their robocars inside, and once decided it was simpler to cross a border into Hungary this way. However, they left driving the vehicles, and the exit officials got very concerned that there was no record of the robocars coming into the country. I presume it wasn't hard to convince them they were not smuggling Hungarian robocars out.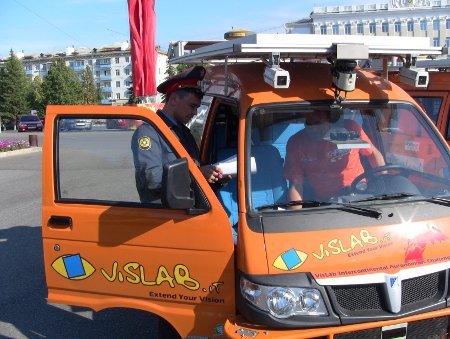 read more »