This year, we stayed with Kathryn's family for the holidays, so I attended dinner in my own mother's home via Skype. Once again, the technology was frustrating. And it need not be.
There were many things that can be better. For those of us who Skype regularly, we don't understand that there is still hassle for those not used to it. Setting up a good videoconferencing setup is still work. As I have found is always the case in a group-to-solos videoconference, the group folks do not care nearly as much about the conference as the remote solos, so a fundamental rule of design here is that if the remotes can do something, they should be the ones doing it, since they care the most. If there is to be UI, leave the UI to the remotes (who are sitting at computers and care) and not to the meeting room locals. Many systems get this exactly backwards — they imagine the meeting room is the "master" and thus has the complex UI.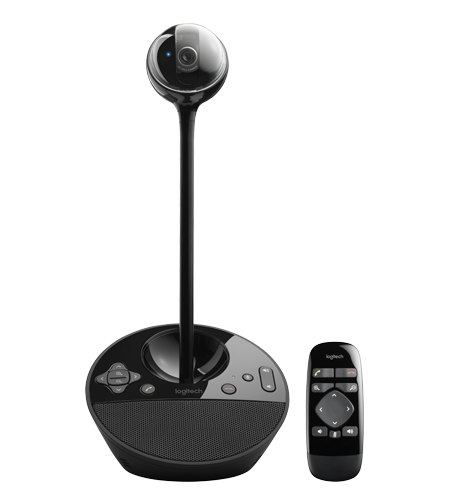 In this family setting, however, the clearest problem for me is that no camera can show the whole room. It's like sitting at the table unable to move your head, with blinders on. You can't really be part of the group. You also have to be away from the table so everybody there can see you, since screens are only visible over a limited viewing angle.
One clear answer to this is the pan/tilt camera, which is to say a webcam with servo motors that allow it to look around. This technology is very cheap — you'll find pan/tilt IP security cameras online for $30 or less, and there are even some low priced Chinese made pan/tilt webcams out there — I just picked another up for $20. I also have the Logitech Orbit AF. This was once a top of the line HD webcam, and still is very good, but Logitech no longer makes it. Logitech also makes the BCC950 — a $200 conference room pan/tilt webcam which has extremely good HD quality and a built-in hardware compressor for 1080p video that is superb with Skype. We have one of these, and it advertises "remote control" but in fact all that means is there is an infrared remote the people in the room can use to steer the camera. In our meetings, nobody ever uses this remote for the reason I specify above — the people in the room aren't the motivated ones.
This is compounded by the fact that the old method — audio conference speakerphones — have a reasonably well understood UI. Dial the conference bridge, enter a code, and let the remotes handle their own calling in. Anything more complex than that gets pushback — no matter how much better it is. read more »