I've been on the road, and there has been a ton of news in the last 4 weeks. In fact, below is just a small subset of the now constant stream of news items and articles that appear about robocars.
Delphi has made waves by undertaking a road trip from San Francisco to New York in their test car, which is equipped with an impressive array of sensors. The trip is now underway, and on their page you can see lots of videos of the vehicle along the trek.
The Delphi vehicle is one of the most sensor-laden vehicles out there, and that's good. In spite of all those who make the rather odd claim that they want to build robocars with fewer sensors, Moore's Law and other principles teach us that the right procedure is to throw everything you can at the problem today, because those sensors will be cheap when it comes time to actually ship. Particularly for those who say they won't ship for a decade.
At the same time, the Delphi test is mostly of highway driving, with very minimal urban street driving according to Kristen Kinley at Delphi. They are attempting off-map driving, which is possible on highways due to their much simpler environment. Like all testing projects these days, there are safety drivers in the cars ready to intervene at the first sign of a problem.
Delphi is doing a small amount of DSRC vehicle to infrastructure testing as well, though this is only done in Mountain View where they used some specially installed roadside radio infrastructure equipment.
Delphi is doing the right thing here — getting lots of miles and different roads under their belt. This is Google's giant advantage today. Based on Google's announcements, they have more than a million miles of testing in the can, and that makes a big difference.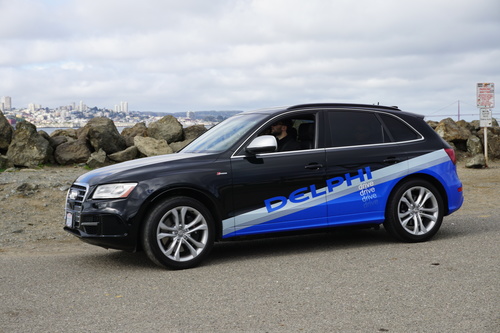 Hype and reality of Tesla's autopilot announcement
Telsa has announced they will do an over the air upgrade of car software in a few months to add autopilot functionality to existing models that have sufficient sensors. This autopilot is the "supervised" class of self driving that I warned may end up viewed as boring. The press have treated this as something immense, but as far as I can tell, this is similar to products built by Mercedes, BMW, Audi and several other companies and even sold in the market (at least for traffic jams) for a couple of years now.
The other products have shied away from doing full highway speed in commercial products, though rumours exist of it being available in commercial cars in Europe. What is special about Tesla's offering is that it will be the first car sold in the US to do this at highway speed, and they may offer supervised lane change as well. It's also interesting that since they have been planning this for a while, it will come as a software upgrade to people who bought their technology package earlier.
UK project budget rises to £100 million
What started with a £10 million pound prize has grown in the UK has become over 100m in grants in the latest UK budget. While government research labs will not provide us with the final solutions, this money will probably create some very useful tools and results for the private players to exploit.
MobilEye releases their EyeQ4 chip
MobilEye from Jerusalem is probably the leader in automotive machine vision, and their new generation chip has been launched, but won't show up in cars for a few years. It's an ASIC packed with hardware and processor cores aimed at doing easy machine vision. My personal judgement is that this is not sufficient for robocar driving, but MobilEye wants to prove me wrong. (The EQ4 chip does have software to do sensor fusion with LIDAR and Radar, so they don't want to prove me entirely wrong.) Even if not good enough on their own, ME chips offer a good alternate path for redundancy
Chris Urmson gives a TeD talk about the Google Car
Talks by Google's team are rare — the project is unusual in trying to play down its publicity. I was not at TeD, but reports from there suggest Chris did not reveal a great deal new, other than repeating his goal of having the cars be in practical service before his son turns 16. Of course, humans will be driving for a long time after robocars start becoming common on the roads, but it is true that we will eventually see teens who would have gotten a licence never get around to getting one. (Teems are already waiting longer to get their licences so this is not a hard prediction.)
The war between DSRC and more wifi is heating up.
2 years ago, the FCC warned that since auto makers had not really figured out much good to do with the DSRC spectrum at 5.9ghz, it was time to repurpose it for unlicenced use, like more WiFi.
There is now a bill to force this being proposed. read more »