It's way late, but I finally put captions on my gallery of regular-aspect photos from Burning Man 2006.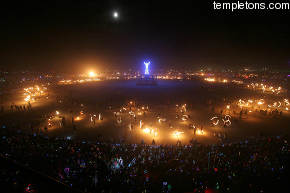 Some time ago I put together the 2006 Panoramas but just never got around to doing the regulars. There are many fun ones here, an particular novel are the ones of the burn taken from above it on a boomlift.
I also did another aerial survey, but that remains unfinished. Way too much processing to do, and Google did a decent one in google maps. I did put up a few such photos there.
Enjoy the 2006 Burning Man Photos.