I will be heading to western Idaho this weekend to watch my sixth total Eclipse. That makes me a mid-grade eclipse chaser, so let me tell you some important things you need to know, which are not in some of the other eclipse guides out there. For good general sites look at places like NASA's Eclipse Guide which has nice maps or this map.
Totality is everything
The difference between a total solar eclipse and a partial one — even a 98% partial one — is literally night and day. It's like the difference between sex and holding hands. They are really two different things with a similar sounding name. And a lunar eclipse is again something vastly different. This does not mean a high-partial eclipse is not an interesting thing, but the total eclipse is by far the most spectacular natural phenomenon visible on this planet. Beyond the Grand Canyon, Yosemite, Norway, etc. So if you can get to totality, get there. Do not think you are seeing the eclipse if you don't get into the zone of totality.
People debate about how total it should be
Many people seek to get close to the centerline of the eclipse. This provides the longest eclipse for your area. You will only lose a modest number of seconds if you are within 15 miles of the centerline, so you don't have to get exactly there, and in fact it may be too crowded there.
On the other hand there are those who deliberately get close to the edge, giving up 30-40% of their eclipse time in order to see more "edge effects." Near the edge, the edge effects are longer and a bit more spectacular. In particular the diamond ring will be a fair bit longer, and you may see more prominences and chromosphere for longer. If this is your first eclipse, I am not sure you want to get too close to the edge. But try any of the map web sites that will tell you your duration, and get somewhere that has within 30-40 seconds of the centerline time.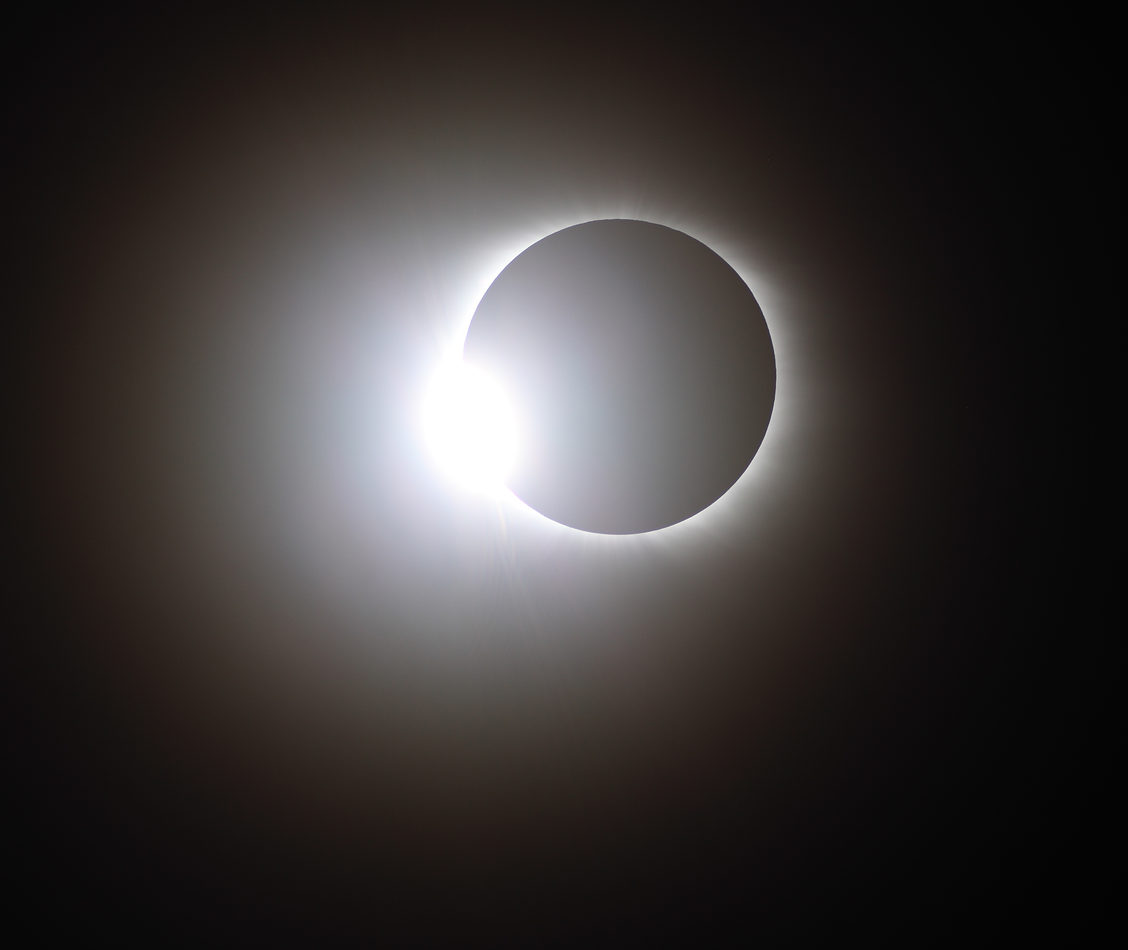 You look at the total eclipse with zero eye protection
You've been hearing endless talk about eclipse glasses and how well made they are. Eclipse glasses are only for the boring partial phase. They give you a way to track the progress of the moon while waiting for the main event. Once totality is over, everybody packs up and does not even bother to watch the 2nd half of the partial eclipse, that's how boring the partial part is.
But don't be one of those people who, told about the danger of eclipses, does not watch totality with your bare eyes. In fact, use binoculars in addition to your naked eyes, and perhaps a short look through a telescope — but not during the diamond rings or any partial phase.
Update: There is a nice large sunspot group that should still be there on Eclipse day, making the partial phase more interesting to those with good eyesight.
In totality you are looking not at the sun, but its amazing atmosphere — the "corona" — full of streamers, and many times the size of the sun or moon. You may also see jets of fire coming off the sun, and at the start and end of totality you will see the hot red inner atmosphere of the sun, known as the chromosphere.
If you are crazy enough to be outside the total zone but close to it, you still can't look with your bare eyes at any part of the eclipse.
There are some cool things in a 99% partial eclipse (which you see just before and after totality.)
An eclipse is most glorious in the sky but a lot of other things happen around it. As it gets very close to total you will see the nature of the sunlight change and become quite eerie. Shadows of trees will turn into collections of crescents. About 20-60 seconds before and after totality, if you have a white sheet on the ground, you will see ripples of light waving, like on the bottom of a giant swimming pool. And the shadow. You will see it approach. If you are up on a mountain or in a plane this will be more obvious. It is going at 1,000 to 2,000 miles per hour. read more »