I've written before about both the desire for universal dc power and more simply universal laptop power at meeting room desks. This week saw the announcement that all the companies selling cell phones in Europe will standardize on a single charging connector, based on micro-USB. (A large number of devices today use the now deprecated Mini-USB plug, and it was close to becoming a standard by default.) As most devices are including a USB plug for data, this is not a big leap, though it turned out a number of devices would not charge from other people's chargers, either from stupidity or malice. (My Motorola RAZR will not charge from a generic USB charger or even an ordinary PC. It needs a special charger with the data pins shorted, or if it plugs into a PC, it insists on a dialog with the Motorola phone tools driver before it will accept a charge. Many suspect this was to just sell chargers and the software.) The new agreement is essentially just a vow to make sure everybody's chargers work with everybody's devices. It's actually a win for the vendors who can now not bother to ship a charger with the phone, presuming you have one or will buy one. It is not required they have the plug — supplying an adapter is sufficient, as Apple is likely to do. Mp3 player vendors have not yet signed on.
USB isn't a great choice since it only delivers 500ma at 5 volts officially, though many devices are putting 1 amp through it. That's not enough to quickly charge or even power some devices. USB 3.0 officially raised the limit to 900ma, or 4.5 watts.
USB is a data connector with some power provided which has been suborned for charging and power. What about a design for a universal plug aimed at doing power, with data being the secondary goal? Not that it would suck at data, since it's now pretty easy to feed a gigabit over 2 twisted pairs with cheap circuits. Let's look at the constraints
Smart Power
The world's new power connector should be smart. It should offer 5 volts at low current to start, to power the electronics that will negotiate how much voltage and current will actually go through the connector. It should also support dumb plugs, which offer only a resistance value on the data pins, with each resistance value specifying a commonly used voltage and current level.
Real current would never flow until connection (and ground if needed) has been assured. As such, there is minimal risk of arcing or electric shock through the plug. The source can offer the sorts of power it can deliver (AC, DC, what voltages, what currents) and the sink (power using device) can pick what it wants from that menu. Sinks should be liberal in what they take though (as they all have become of late) so they can be plugged into existing dumb outlets through simple adapters.
Style of pins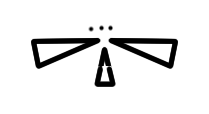 We want low current plugs to be small, and heavy current plugs to be big. I suggest a triangular pin shape, something like what is shown here. In this design, two main pins can only go in one way. The lower triangle is an optional ground — but see notes on grounding below.
In this design, a small low current plug can still go into a large, high-current jack. It is safe because it will tell the source not to offer that much current. The spacing of the pins is an interesting question. For example, a high-current plug might not have the triangles come to a full point, or it might put insulator at the point to keep the shape. In this case, the conducting parts of the pins can be spaced as far apart as desired to eliminate any risk of arcing. It may be designed so that the sockets also have different depths so that we can control what segments of the triangle make contact. The main goal here is that you can have a very small plug for a low power device and it is compatible with all sizes of larger plug.
Other designs are possible of course, such as blades that can just become longer. On the diagram, a few data pins are shown but there are a lot of options there. Another option is a system that simply has multiple pins (progressively larger) and the bigger plugs can use more of them to plug in.
Locking
Traditional high-current plugs have a locking mechanism. It is important to now allow disconnect when powered. A smart power system can have a shorter pin that detects if the plug is coming out, and shut off power before it can be disconnected completely. This may eliminate the need for locking for safety. However, sometimes locking is useful just to assure power is not interrupted by accident. The most common designs use twist-lock, which involves rounded blades which can turn in the socket. This does not allow the triangular design, but could support designs with multiple pins or longer pins.
Apple, with its magsafe connector, introduced new thinking to how tightly connectors should bind. When the cord leads to a fragile device like a laptop sitting on a table, you don't want the cable to lock or even resist being pulled out very hard. If somebody trips on a cable, you would much rather switch to battery for a moment than pull the computer off the table or damage the power cord. Apple used a magnet for this design and has patents in the area but the goals they aimed for are very worthwhile. It may not be possible to meet all the locking (and light-locking) goals we have with one connector.
We want connectors that don't come out casually, come out easily when we want to disconnect them, but which also come out when too much force is applied by accident. A tall order.
Ground
Grounds exist both for safety and to shield noise. Today's smart power circuits which can detect any ground fault and interrupt a circuit quickly may actually eliminate the need for safety grounds in new devices, but that will take quite a change in thinking. Because shield grounds like to wrap all the way around the connector, it is much harder to design a universal plug that can grow in size. It may make sense to put a shield ground only around the data pins, and put them in a row so that the connector can grow and increase the number of data pins. A slot connector (as is commonly found on newer data connectors like HDMI, micro-USB and SATA) can be designed to be able to grow and add more pins, allowing both new longer connectors to go into older smaller slots if those slots left extra space to one side, and for older plugs to go into newer jacks (that's usually much easier to arrange.) The main power pins would not need noise shields unless they will be used to send high frequency AC. This is not out of the question, as it is a handy way to send power for some types of lighting, or the intermediate stage power of a switching power supply.
Data pins
In general, as new data buses arise, they sometimes change the nature of their pins but often just want more pins. Dual-link DVI is just DVI with twice as many data wires, for example. While it can't last forever, the ability to add data pins to a data bus has value to keep a connector alive for longer. This might be particularly true in video cables. In the future, video displays may come with frame buffers, which would allow higher-resolution displays to be driven by older, slower video sources using protocols other than raw bit streaming. Connector compatibility would be nice. We managed to go from 10baseT to gigE on the 8 pin modular plug.
What voltage?
While smart power lines should be able to deliver a range of voltages and current limits, there is still some debate about what the most common voltages might be. There is a move afoot to power all PCs with pure 12 volts, for example, and generate other voltages needed internally with buck converters, which are now cheap and efficient. Oddly, at the same time, cars, which originated the 12 volt standard, want to move internally to a higher voltage.
The higher the voltage, the more power you can deliver over the same wire at the same current. The only reason you don't want to go as high as you can is that high voltages can be dangerous to humans, and will arc over a larger gap and need more insulation. Lower voltages like 12v are quite safe but need very thick wire to send any power. It is, however, easier to make batteries to deliver the lower voltages.
Many systems, including most phone CO equipment use 48 volts. Electric cars and golf carts all use more voltage. Home solar systems, even ones that use 12v batteries, tend to combine them to work at 24 or 48 volts. Generally a bit over 48 volts is considered the danger zone. You can feel a shock from a 48 volt circuit but it is unlikely to cause lasting damage, and it's hard, but not impossible for it to kill you.
Most other efforts call for DC. AC's main advantage is you can convert AC voltages up and down easily with older technology. This advantage is fading. It does have a few other advantages — no need for polarization of plugs, and some devices will synchronize off its frequency. Its disadvantages are also strong — it generates noise (the hum we all know) and flicker in many types of lighting.
Is there one type of plug that can do it all? Perhaps not. But as we go into the future and design new ones, we should learn from how old plugs became obselete and try to avoid both the old mistakes and new ones we can think up.