Many states and jurisdictions are rushing to write laws and regulations governing the testing and deployment of robocars. California is working on its new regulations right now. The first focus is on testing, which makes sense.
Unfortunately the California proposed regulations and many similar regulations contain a serious flaw:
The autonomous vehicle test driver is either in immediate physical control of the vehicle or is monitoring the vehicle's operations and capable of taking over immediate physical control.
This is quite reasonable for testing vehicles based on modern cars, which all have steering wheels and brakes with physical connections to the steering and braking systems. But it presents a problem for testing delivery robots or deliverbots.
Delivery robots are world-changing. While they won't and can't carry people, they will change retailing, logistics, the supply chain, and even going to the airport in huge ways. By offering very quick delivery of every type of physical goods — less than 30 minutes — at a very low price (a few pennies a mile) and on the schedule of the recipient, they will disrupt the supply chain of everything. Others, including Amazon, are working on doing this by flying drone, but for delivery of heavier items and efficient delivery, the ground is the way to go.
While making fully unmanned vehicles is more challenging than ones supervised by their passenger, the delivery robot is a much easier problem than the self-delivering taxi for many reasons:
It can't kill its cargo, and thus needs no crumple zones, airbags or other passive internal safety.
It still must not hurt people on the street, but its cargo is not impatient, and it can go more slowly to stay safer. It can also pull to the side frequently to let people pass if needed.
It doesn't have to travel the quickest route, and so it can limit itself to low-speed streets it knows are safer.
It needs no windshield or wheel, and can be small, light and very inexpensive.
A typical deliverbot might look like little more than a suitcase sized box on 3 or 4 wheels. It would have sensors, of course, but little more inside than batteries and a small electric motor. It probably will be covered in padding or pre-inflated airbags, to assure it does the least damage possible if it does hit somebody or something. At a weight of under 100lbs, with a speed of only 25 km/h and balloon padding all around, it probably couldn't kill you even if it hit you head on (though that would still hurt quite a bit.)
The point is that this is an easier problem, and so we might see development of it before we see full-on taxis for people.
But the regulations do not allow it to be tested. The smaller ones could not fit a human, and even if you could get a small human inside, they would not have the passive safety systems in place for that person — something you want even more in a test vehicle. They would need to add physical steering and braking systems which would not be present in the full drive-by-wire deployment vehicle. Testing on real roads is vital for self-driving systems. Test tracks will only show you a tiny fraction of the problem.
One way to test the deliverbot would be to follow it in a chase car. The chase car would observe all operations, and have a redundant, reliable radio link to allow a person in the chase car to take direct control of any steering or brakes, bypassing the autonomous drive system. This would still be drive-by-wire(less) though, not physical control.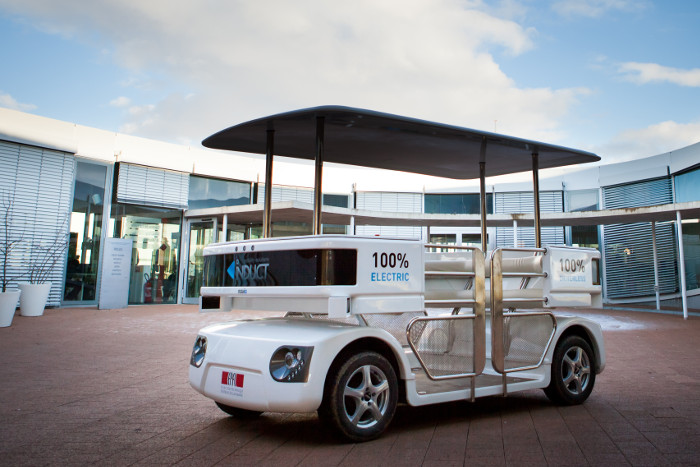 These regulations also affect testing of full drive-by-wire vehicles. Many hybrid and electric cars today are mostly drive-by-wire in ordinary operations, and the new Infiniti Q50 features the first steer-by-wire. However the Q50 has a clutch which, in the event of system failure, reconnects the steering column and the wheels physically, and the hybrids, even though they do DBW regenerative braking for the first part of the brake pedal, if you press all the way down you get a physical hydraulic connection to the brakes. A full DBW car, one without any steering wheel like the Induct Navia, can't be tested on regular roads under these regulations. You could put a DBW steering wheel in the Navia for testing but it would not be physical.
Many interesting new designs must be DBW. Things like independent control of the wheels (as on the Nissan Pivo) and steering through differential electric motor torque can't be done through physical control. We don't want to ban testing of these vehicles.
Yes, teams can test regular cars and then move their systems down to the deliverbots. This bars the deliverbots from coming first, even though they are easier, and allows only the developers of passenger vehicles to get in the game.
So let's modify these regulations to either exempt vehicles which can't safely carry a person, or which are fully drive-by-wire, and just demand a highly reliable DBW system the safety driver can use.