Newspapers reported a house sold in my town this week for almost $800,000 over asking, which is to say the buyers bid $2.5M for a house listed at $1.69M. Now the prices are already crazy but this takes the cake. The buyers had lost a few auctions before by not overbidding enough, and wanted to make sure they got this house, even though it is not that remarkable a place.
It was an auction, of course, but a simple sealed bid, highest price auction. Such auctions are "strategic" — you want to bid the lowest amount that will still win. In this case the sellers did very well because the buyer probably bid more than they wanted to, unsure of what was needed to win.
Game theorists generally believe that second price auctions (the Vickrey Auction) are actually the best choice for both buyers and sellers. That when done properly, they bring in the best revenue for the seller but also make the buyer feel comfortable they bid the right number. Second price auctions are the most common in the world, since that's what eBay uses — namely the winner bidder pays the amount of the second highest bid (in eBay's case, plus a small increment.) Google also uses them to price adwords.
To understand why they can be best for sellers, effectively the choice comes down to taking the #2 bid from a set of higher bids, or the #1 bid from a set of lower bids. The former option tends to be a good choice, and also minimizes buyer remorse at the same time.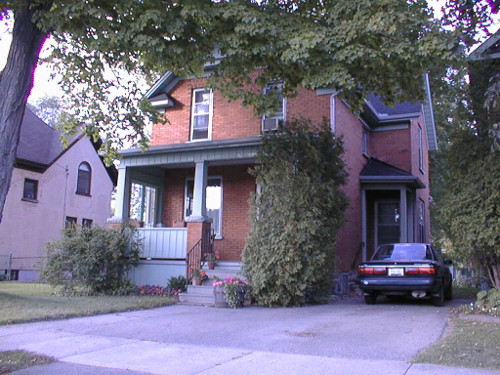 So my question is, given that they are the best method, why don't these homes get sold in second price auctions?
The most likely reason is that the public, in spite of eBay, does not understand 2nd price auctions very well. In face, even on eBay, you see people who bid in advance or get annoyed at "snipers" who bid at the last minute. eBay combines what is actually a 2nd price auction with the appearance of a "going, going, gone" auction, and that confuses people.
For a 2nd price auction to work, the bidders must truly understand how to use it, which is to bid their "true heart." That is to say, to bid the maximum price they would really want to pay. The price at which, they are satisfied if they get it for that price, and they are satisfied if they don't get it at that price because they truly believe any more was too much. You must pick the price where you are (barely) happy if you win, and barely happy if you lose. It takes some practice to learn how to pick that price.
In practice of course, 2nd price auction bidders know they will almost always pay less than they bid, and thus be truly happy. That is what allows them to submit their truly highest bid. The fact that they submit their truly highest bid is what gives the seller the best outcome. You sacrifice the random swings of buyers who overbid for a reliable shot at the best market price.
Unfortunately, home buyers and sellers are usually amateurs. They do this once every decade, if that. They otherwise never spend or get this much money. They are likely to make mistakes or be irrational in their bidding.
To make it work, real estate agents would need to be trained in how to coach their clients. It's not that hard. You ask for their number, and when they say, "1 million" you say, "So if it sells for $1,050,000 you will be pleased that you didn't have to pay that much and will buy something else?" You need an increment that is large enough to make a difference. You can't just say, "You're happy if you lose with $1,000,001" because nobody would agree with that.
One reason 2nd price auctions confuse and anger unskilled bidders is that if you were the 2nd price, the winner gets the house for your price. You imagine, "If only I had bid a little more." Worse, on eBay, the winner gets the item for your bid plus $1, making many people believe, "Crap, if I had only bid a dollar more, of course I would have bid that."
In reality the winning bidder bid much more, so if you had bid $1 more, their price would also go up $1. You didn't lose by a dollar, you probably lost by a lot, though that is generally not revealed to anybody but the auctioneer.
As noted, a 2nd price auction has (almost) no strategy. You do not alter your bid based on your opinion on what others will bid. Even if the bidders collude or publish their bids, it doesn't change the result — the person willing to pay the most gets it, and pays what the person willing to pay the 2nd most offered. In a 1st price auction, there can be strategy and collusion. You do well when you guess correctly what others will bid, and if you can find a motive, collusion can do very well for the bidders. (Usually that requires the bidders participate in multiple auctions and collude to cheat a group of sellers.) The one strategy in 2nd price auctions is that you should not publish your bid because it might make somebody realize they're actually willing to bid more, namely more than you. It's better for you if people underbid their true heart. When auctions repeat it can help people learn more about the market and, while it shouldn't, this adjusts their estimate of their true heart.
Differences among buyers
One problem in real estate auctions is that not all buyers are the same. Some have conditions on their offers. Some the seller just likes better than others. It is not unknown for sellers to take a 2nd highest bid if they liked the bidder more, or it came without conditions.
To deal with this, the auctioneer could allow the seller to pick the winner in a couple of ways:
The seller might specify, "put a penalty of $10,000 on buyer A." This would be subtracted from their bid in deciding the winner and the winning price. So if A bids $1,050K and B bids $1M and C bids $900K, B wins and pays $950,000 — it is treated as though A bid $950K.
The seller could set a reserve price which is treated like a bid. Bids above the reserve price would be revealed to the seller, and the seller could pick any one of the bidders they like, not necessarily the highest. But the seller must pick a winning bidder, unless nobody qualifies, and that party pays the next highest bid from a qualifying buyer, or the reserve price if that is higher. The forced sale is needed because the seller has now learned the secret bids of the high bidders, which is unfair in another auction.