Wanted -- webcams embedded in small screens for perfect eye contact
Submitted by brad on Sun, 2020-08-16 16:48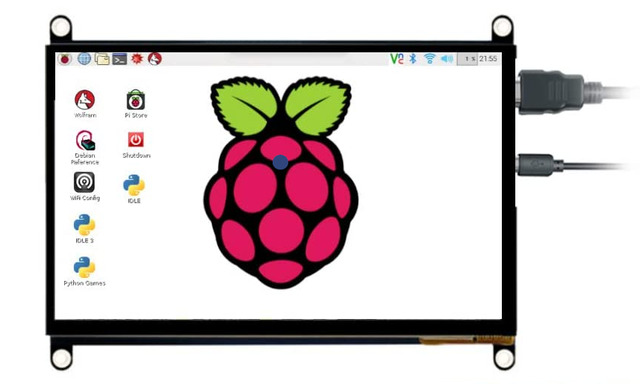 We're all doing lots of video-calling, and we're going to continue to do it, even after the pandemic ends. Because of that, every decent quality webcam has been sold out or doubled in price for months. There are apps that will let you use your smartphone as a webcam, and many people have an old phone which they could even devote to this task.
The reality though, is that 99% of webcam use is for video calling. And video calling really is improved a lot if you make eye contact with the other person. It's an important part of human communication, and some theorize it plays a large role in the fatigue we get when video calling.
As such, what we want is a "webcam/screen combination." This would be a small screen, the size of a phone or tablet, with a small hole in the right place of the screen where the webcam lens would be inserted. Thanks to the mobile phone industry, screens of these size are quite inexpensive. And of course, every smartphone has a camera and screen (and much more) but the camera is not embedded in the screen.
This device would be powered and served by a USB 3 port -- there is now a standard interface for USB monitors, but for older computers there could be an option for HDMI to drive it. As such, it could be plugged into modern computers and appear as a camera and an additional monitor. Then you would set up your video conferencing software to use the extra display to show the other person's face. Zoom would be put into its "two monitor" mode and you would put the "speaker view" window on the camera display, and the gallery view on the main display if you wished.
Ideally it would be made easy to mount on top of existing displays and laptops, or even to the side, as well as on a table or tripod.
With the slightly larger tablet-sized screens, the small hole for the camera would not be that distracting. The main issue is that for perfection, you would want to put it right at the location of the other's eyes, but that would ruin eye contact for you, so it's fine if it's just next to them. Indeed, eventually video calling software would know the location of the hole, identify the location of the other face, and adjust the display to make it ideal.
This replaces the well known concept of the teleprompter. A teleprompter uses a half-silvered diagonal mirror so you can see the display in the mirror and the camera sees you from the other side of the mirror. This is ideal because you can put the center of the lens right on the eyes of the other. While teleprompters are normally used to display things like scripts and information to people on-camera, the documentary "The Fog of War" pioneered their use for conversation. The director of the movie would interview subjects using this device, and even though in the same room, would sit behind a curtain and show their face on the screen of the teleprompter. This made even untrained interview subjects always look directly into the camera while talking to their interviewer and many remarked at how this approach, dubbed the interrotron, turned this film into an Oscar winner.
Problem is, a teleprompter is large and currently expensive, though they could be made for less in quantity. There have also been efforts to embed cameras into screens without being so obvious. For example, with a larger lens, you can create a section of the screen where the light emitting elements are in tubes that keeps their light only going out, meshed with transparent tubes that feed the light to the lens. With a larger lens all this structure up close to the lens is not visible to it, other than reducing contrast a bit.
Either way, as we know cheap cell phones with screens, cameras and far more parts can be had for under $200. This design might not be made in quite that quantity but is much simpler, so it should be priced fairly well. In essence, since every webcam should have a screen with it, this should become the standard design.
The screen camera would actually make an excellent teleprompter. This is very useful for anybody recording a video, particularly a video of a talk involving slides. With this approach, you can stare right at your slides while making eye contact with the camera, resulting in a great video when your slides and personal video are put together. In this case, a small hole in the slides is unlikely to be trouble to any speaker, unless they are literally reading words off slides they didn't write.
Just doing it with a cell phone?
Cell phones have their front camera very close to the screen, and in fact with "notch" phones it's even partially embedded in it. A much cheaper approach would be an app that takes an old phone an simultaneously turns it into a webcam and a display. There are apps that do this, and even ones that do it over USB (which is much better than wifi for speed and reliability) and so a combo app could do a lot, combined with mounting hardware.
With the phone's camera, you don't make direct eye contact, but it's often better than what is made with the typical placement of a webcam on top of a monitor, since the gap from camera to person is somewhat smaller.
Of course, you can just do the video call on most phones, while sitting on your computer to access it during the call. You lose a few things this way -- access to the chat channel and more complex interfaces of the video call software becomes much more difficult. With a tool like Zoom, you can't be a host, nor get the very useful "gallery" view combined with the speaker view. The creators of the video tools could make them support a "phone + computer" mode which puts only the camera and main video display on the phone, and puts the audio, UI and other video (gallery) on the computer. You must work to sync the audio and video in this case. (You could do audio on the phone if it is one that still has a headset jack, or can use USB earbuds while also powering the phone. Bluetooth earbuds don't yet cut it.)
Block your monitor
The easiest approach is just to have your webcam on a stand, and place it in front of your screen, blocking it. Then move the window with the other person so that the camera sits close to, but not covering their head. This works best with a small camera, thin stand, and a big monitor. I use this approach often, but of course it does compromise your own view. Small webcams designed to hang down on a thin pole from the top of a screen could also do the job. The actual lens and chip part of webcam can be very small -- as you can see by how they look when packed into phones.
Cheap version
It would also be possible for some vendor of screens to make one with a hole in the middle behind which any brand of small-lens webcam can be glued. Yes, it means a small hole in your view of other people (or slides) but it allows the product to be general.
Software
For a long time, efforts have been made to produce software that redraws the eyes to make it look like you're looking at the camera when you're actually looking at the video window. Early efforts were too creepy -- people can tell if eyes are wrong. Newer, neural network efforts show some promise, and may become a simpler solution. They all have to face the problem of handling when you look away -- you should appear to look away -- but what if you look at the camera? And what if you want to appear to look at the person when you're really looking at your email? And what should be done when talking to a grid of people?