Flying cars, robocars and more will rewrite the rural landscape, for good and ill
Submitted by brad on Mon, 2018-11-26 12:15
How and where we live is governed most by transportation, and all the new mobility technologies are poised to cause big changes. Today, I want to look at the following technologies and how they will affect life outside the city. In many case, they will come last to the country, but in other cases, they may come first.
Flying Cars -- access to everywhere with a clearing
Walking pack robots -- to carry cargo and even people through rough terrain
Robocars -- widely varied vehicles on demand, plus off-road and simple road ability
Automated high speed aviation -- offering quick travel to other locations
Cheap solar -- power almost anywhere.
Cheap batteries -- the other half of power everywhere
Water purification -- water in many more places
Universal Online Shipping -- buy anything with short delivery times at low cost
Robot Delivery (drone and road) -- get anything (small) to any location.
Satellite, balloon and low cost wireless data links -- be on the net, connected to society, anywhere
Telepresence -- engage more fully in activities at remote locations
Hyperloop -- much more speculative, but with interesting potential to make certain remote places seem local
The short summary of the effect of all these technologies is it will be possible for far more people to live easily and at reasonable cost in vastly more places. It will be practical to build and have housing in immensely more locations, some of them very attractive places to live. It will be practical to live in those locations with less sacrifice of urban amenities. It will be possible to be much more engaged with people from the urban world, including doing many more jobs and social activities. And it will be faster and more convenient to travel to other places when needed, including commuting from a much larger potential area.
Of course, just because it will be possible to live nicely almost anywhere, this does not mean everybody will want to live there. Many people will still crave the advantages of urban life -- walking (or very short trips) to the people and things you want in your life. Social interactions and entertainments of all sorts that are only found in cities. The list is long and particularly for those without children, the appeal is high.
But there is also much that people find appealing to remote locations. Many love isolation, privacy and quiet. Fresh air and beautiful views. Room to move and play. Outdoor recreation. Escape from crowds and crime and pollution and the negatives of cities.
Today, people have much less choice about which environment they will live in. Some must live in one for their work. Some have strong priorities, and today there are clear trade-offs between the two; to get one you must sacrifice most of the other. In the future, many more people will have the choice, with fewer trade-offs.
Today, city land is much more expensive than rural land, but due to shared services and higher-density living, in theory the city can be a cheaper places at the low end. It is a less energy intensive place to live, in particular. As the new technologies make more land useful for development, that will tremendously increase the supply of useful land, lowering the price. As energy costs drop, so will the cost of development and living on that land.
For expensive big cities, where ordinary houses cost $1M, $2M or more, there could be a lot of incentive to living in places where the same house is much less, even including the cost of advanced technology.
Of course, after centuries of migration into the cities (though briefly out of the downtowns in the late 20th century) a back-migration to the country would have many social consequences. I will discuss some of those at the end of the article.
This article attempts to explore the implications of these technologies if and when they become mainstream. Many are still in development and have unresolved problems, and it's easy to get bogged down in those. However, for most of them I have reasonably high confidence that they will arrive in 1-2 decades or less. (Hyperloop, not eVTOL, is actually the most speculative.) Let's talk about what it would mean for them to come.
Flying Cars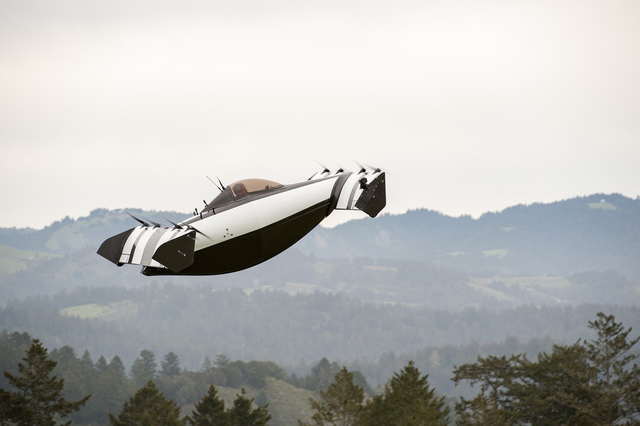 Automated, small electric VTOL (vertical take-off and landing) vehicles are probably the most disruptive of all the technologies here. In what is a surprise to many, the engineering on these is close to solved. They will be available with ranges from 30 to 70 miles at 100mph or more, able to take off and land anywhere there is a clearing large enough to park 4 cars, or possibly even smaller. They will be fairly green, and quiet enough to be used in low density areas. They may well become allowed in the country well before they are allowed in the city.
Electricity cost will be low -- under the 10 cents/mile of gasoline -- though purchase cost will start high and go down with mass production. As all electric, simple vehicles with many redundant rotors, maintenance will be vastly simpler that existing aircraft. Noise will be suitable for a rural property with 300' between homes or more.
(Yes, especially for people new to the recent revolutions, "flying cars" seem like pure science fiction, as robocars did 10 years ago. But the goal is to discuss what they mean if they arrive, not to debate if they will.)
What that means is that almost nowhere is unreachable, and in fact, almost everywhere is reachable fast. Sides of mountains. Heavily wooded areas. Majestic hilltops. Property surrounded by water or swamp. If you can build on it and clear a small landing area, there can be a place to live. Where today there might be a 30 minute drive over winding dirt roads (if there are roads at all) to get to a location, the VTOL will do it in just a few minutes.
Most of these vehicles are electric, which means power is necessary. The solar panels described below provide part of the answer, but it is not strictly required. If there is a pad where they can charge (from grid or solar) within a few miles travel of the home, the vehicles can make automated hops to the charging locations when needed. This means only a little bit of "topping up" is desired from the electrical system at the home, and only when the full range is needed.
Ground route to the property
Even though the people using a property might normally travel to it by flying vehicle, there may be some need for a ground (or water) route to the site. This route may be needed for construction and emergency access in high winds.
It is interesting to think if construction, which involves shipment of 100,000lb of material and in many cases heavy machinery, could happen without a "real road." With VTOLs able to carry 1,000lb -- and in extreme cases with skycrane helicopters able to carry 20,000 -- it might take many trips but all the construction material could get up there. Earth movers are a more difficult challenge, other than the expensive skycrane.
If a regular road is needed, it certainly can be a cheap one -- only a single lane wide and gravel surface is sufficient. It can even take a longer route than the residents would tolerate to avoid building bridges if that makes it cheaper.
It's not even out of the question to imagine a road only traversable with either advanced suspension, or in the near future, a walking robot. Thanks to Boston Dynamics, walking robots are also on the cusp of real use, and they could haul heavy gear and even a small robotic earth mover. Indeed, a 4 foot wide path is all that is needed, since due to the size of the doors, there is nothing that goes in a house that's larger when shipped.
For emergency use, all that might be needed is a footpath or mountain bike path. All of this is vastly cheaper than building a maintained paved road for regular use.
Of course, there are many more modest home designs which don't need heavy equipment and tons of materials. They may even use local materials for a lot of their weight.
Robocars
Those who do live on roads will make use of robocars extensively. Even those who use a flying vehicle will still, for longer trips, fly it to a landing pad at the end of its range and switch to a robocar.
On demand robotaxi service won't be as practical out in the country, so there will be more use of privately owned robocars there. Even so, any type of vehicle will be available if you give modest notice. That means you can call up an SUV or special high-clearance off-road vehicle when you need it, but switch to a much cheaper and more efficient road vehicle on the paved roads.
All cars, not just robocars, will gain better ability to handle rough roads using dynamic suspension, where a LIDAR scans the road in front of the car to know its exact shape and keeps the passenger compartment stable. Washboard roads that today are too uncomfortable will be available for smooth travel.
We can also make use of the ability of robocars to drive a perfect path -- we call it "driving on rails." This means you could make "roads" that are really just two strips of concrete, meant for use only by cars (or more to the point, cargo trucks) which will drive perfectly on those strips. This can make it much cheaper to put in roads to remote areas that want them.
While families will continue to probably own a robocar, they may not feel the need to own two. While robotaxi service may take too long to come, you can set up a service where once one person takes out the owned robocar, another comes to wait as a temporary second car while the family car is away, giving the same level of service as owning two cars.
Robocars also offer the option of "sleeper cars" and cars that are good working environments, making long trips, and even long commutes, much more reasonable options for those who will travel on the ground.
High speed automated aviation
People who live hundreds of miles from the big cities -- where land is super cheap -- will be out of range for the small flying cars. Longer trips would require either a 1 hour recharging pit-stop (still faster than going by land in many areas) or the use of a conventional long range aircraft, ideally powered by biofuels until battery weights can be brought down.
New hybrid designs that use electricity and liquid fuel are much more efficient than older ones, and also greener, cheaper and more reliable. A person 200 miles from the city might find it reasonable to take their own VTOL to a small airstrip to join with several other people in an automated fast flight to the city. At the city, they would switch again to VTOLS or robocars for a quick trip to their urban destination. While today this might be a 4 hour trip on the ground, it could become easily under an hour, door to door.
Of course these would also take you to the big airports where the really long-range flights fly to other countries.
The big challenge here is streamlining/eliminating security which adds too much travel time. Their is hope the FAA could eliminate it on smaller aircraft.
Cheap Solar & Batteries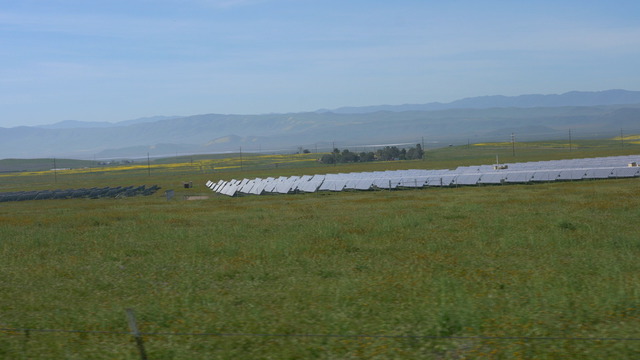 In sunny areas, solar power is now the cheapest form of electricity. Yes, the amortized cost to install a new solar plant gives a lower price per kwh than building a new coal or gas plant. (Using old gas plants is still cheaper.) The days of fossil fuel are numbered, as are the days of centralized, expensive electricity.
In a reasonably sunny place, a remote home will still have access to lots of electricity at a reasonable price. That includes enough to recharge the electric aircraft and cars.
The main technology that needs improvement is battery storage. But non-vehicle batteries don't care about weight and size so offer some interesting new options.
Low wattage grid tie
Unfortunately, being off grid with solar is not as green a thing to do as being grid-tied in the city. However, a house with solar and batteries can grid-tie using a much lower wattage connection than a typical house needs, because that connection can be used full time for battery charging when low sun is present or forecast, and for selling extra power at the best times, not just when the sun is shining. New smart grid switches can allow a collection of neighbours to build a much lower cost local grid and tie it to the external grid at much lower cost. While today a typical house will have a 22KW connection to the grid, or even a 48KW one, a house with solar and batteries might need only a few KW. The key is to be able to bring in power during solar lows, and to sell all solar that comes when batteries are well charged.
Water purification
A home site needs transport and power, but it also needs water and sanitation. Cheap power can mean cheap water purification and desalination for home sites which only have impure water or seawater. That's not as useful out in very rural places, where water will be the key gating factor. Cheap power can also offer better ways to dispose of sewage through heat driven composting reactions.
Universal online shopping and delivery
This has already arrived and already enabled vastly more shopping choices for rural customers. The rule that the USPS and the common carriers deliver to every address has been a boon to those folks.
Robotic delivery will make this cheaper and faster, and flying drone delivery for small loads will be available even sooner than the flying passenger vehicles.
Fast data networks
People need fast data. They may not get gigabit fiber to rural locations, but many technologies might lead to good bandwidth being available in remote locations, including:
Free space optical links and Terra-hertz radio links if there is line of sight to a location with high bandwidth
New constellations of satellites
Balloons (Google Loon) or solar drone based high altitude bandwidth
Robots laying redundant cheap fiber paths buried in soil or simply lying on the ground. Some will fail, but redundant paths will keep the network up, and then a drone or robot can install another.
Telepresence
The fast data networks will allow new levels of telepresence. This includes high resolution AR/VR, high bandwidth video conferencing and telepresence robots which will substitute for many needs to travel for meetings. Some fraction of rural dwellers will be able to work entirely remotely, and all of them will be able to cut down trips to the city to some extent.
Hyperloop?
Hyperloop (high speed evacuated tunnel travel) is still a hypothetical technology. In should work in theory but there are many engineering challenges to surmount. If created, it promises travel at 1,000mph. Connection to stations in truly rural locations are unlikely to be economic, but it could mean that cities in more sparsely populated areas could have available very high speed travel to major cities 500 to 1,000 miles away. This could mean a rural dweller could fly in their VTOL in 20 minutes to a hyperloop station, and transfer to a vehicle that takes them to downtown in a major city, or a major airport. The total trip might be under an hour which is less than the commute time of many people.
In addition, it opens up the possibility of non-rural satellite cities. Imagine a city with extremely high land prices in its core, but with open land available 30 miles away. This could be a 5 minute trip in a hyperloop. If the land were available (or if lower cost tunneling became available) the central core or cores of the existing city could be just a 5 minute trip away from the core of a new "satellite" city. The central stations in the satellite city would have a shorter travel time to the stations of the main city than many locations within that city. With the advanced urban transport available (to be discussed in the companion article on urban locations) locations in the satellite could be almost as attractive as the centre. They would be built "green field" with the potential for many improvements. (Though of course, historically, developers have often botched the livability of new green field developments, making them too sparse or uninteresting.)
Most of the discussion of these issues belongs in the urban article, but the key point here is that the technologies described here, combined with hyperloop, might allow empty land near to big cities to suddenly become the place of expansion for the downtown, and the place of relief for high housing prices.
One of the factors that will drive people out to more convenient rural locations is the ridiculous price of housing in the most desirable cities. Even if the extra costs of a rural location, such as a VTOL aircraft, special road, solar power and battery system etc. cost $200,000 or even $400,000 that can be small compared to the money saved compared to buying a house in expensive cities.
Undeveloped nations
These technologies paint a different picture for nations which do not yet have rural highway and road networks. They won't develop their territory the way the richer nations did. They will be able to almost literally "leapfrog" over the idea of expensive and complex highway and rail networks, regardless of the terrain. Instead, they will build smaller ones mainly mainly for cargo, and use flying for inter-city personal transport.
Counter forces
Just as these factors make rural life less of a compromise, they and other forces will make urban life better. Flying vehicles, robocars and many other factors here also make urban commuters shorter, and give even greater and faster access to things for urban dwellers. For those who value many urban things the city will not lose its advantage, though the balance shifts. The ability to have easily accessible vacation property may encourage people who crave both urban and rural living to have both, and to switch between them not just for the weekend.
Social consequences
Most of history has seen a flow from the country to the city. In the late 20th, people left downtowns for suburbs, but now they are returning. They are torn between the interesting and walkable environments of the dense city, and the larger homes, larger yards, greater safety and other attractions of the suburbs, particularly once they have small children, where the availability of schools and the safety of the child's trip to school become very important.
The rural dweller accepts the complete loss of walking to anything -- except of course to nice walks in the country, which are not to be undervalued. The socializing of the city and even the suburb are lost, with encounters with others all relegated to planned excursions and overt visits.
Rural dwellers will still probably promote the concept of the "village," a small semi-urban complex with social spaces, what's left of retailing, restaurants and some residents. They may be able to fly to their village in 5-10 minutes, a time not much longer than the time suburban dwellers take to get to their malls, and urban apartment dwellers take to walk to their "high street" neighbourhood areas.
Some people may elect to deliberately create dense developments in rural areas, to create such an urban lifestyle, but take advantage of the technologies here to give them closer contact with the large cities.
Vast swaths of new land will become economically practical as second homes for the middle class. Land within the range of a VTOL from the urban homes will suddenly be in a good location, and even further land, thanks to comfortable robocars and sleeper robocars, will be within range.
You won't need to own a VTOL to do this, they will be available for hire as taxis, making this lifestyle available to the middle class early on.
Swallowing the country
Of course, it's easy to see how a sudden invasion of rural spaces by city dwellers could have negative consequences. Certainly the existing occupants of these sparse areas will see changes they don't like, at the same time as they are selling their land at a profit. It may or may not be the case that land values are driven up. Usually that will be the case as an area gets more developed, but at the same time so much more land becomes practical for development that there will be a glut of it, at least for a while.
Some places will clearly be valuable -- majestic view sites on hills, island and river locations without easy access and new layers of coastal property. Naturally zoning will play a role in how development spreads, but it often falls to financial pressure. In Europe, the hilltops have the towns (for ancient reasons) and the valleys are farmed. In the USA the valleys are full of houses and the hillsides are left undeveloped and even protected. Expect political battles.
Sparse living is more energy intensive than dense living, because people travel more. However, most of these new modes of travel are electric, and will be powered by the new revolution in solar power, so we can afford that increased energy usage.
The VTOLs will not be silent, particularly not in their earliest days. Current tech makes a takeoff or landing that's "like a motorcycle for about 15 seconds." Once up they are generally not an issue, though the sky will get more crowded and people will be looking into your yard.
Should this be stopped? Can it be?
Many people will feel that increased development of rural spaces would be a terrible thing. Possibly something to be banned or controlled through zoning and other regulations. The people who have existing properties will support that as it protects the value of their properties, but they will certainly make use of the technologies to make the properties nicer. Rural landowners often have disproportionate political power for legacy reasons.
Depending on how the land is developed, there will be natural habitat disruption and destruction, though it may be possible to build to minimize that if there are not roads, depending on the density. To protect from fire danger, people may clear more forest than is good for the forest. They may also accidentally start more fires.
Would you change
A question for readers? Would you switch from urban or suburban to exurb or rural with these technologies? What if the housing were half or 1/3rd the price? If you live rural now, would you welcome or try to prohibit the migrants?