Uber dares to return, Senate pushes law, and query about recharging scooters
Submitted by brad on Thu, 2018-12-06 13:49
Some news items, and then some analysis of the energy needed to reposition and charge all the dockless scooters from Lime and Bird.
Uber coming back?
The New York Times reports that Uber will begin autonomous testing again but just on a one mile fixed route between their facilities and at 25mph or less. They know that if they have even the slightest incident they are toast, so they need to keep it to this fairly low utility level of testing. But they do seem to want to come back. Even so, the Times story includes internal sources saying they have problems and shouldn't do even this. As their earlier safety documents show, they plan to do it with the obvious things fixed.
But can anybody operate in an environment where no mistake can be forgiven? Uber used up all the slack the public might have offered them.
Senate tries self-driving bill
Earlier, the house passed a self-driving bill unanimously, but the Senate version got stalled. It offers an clause forcing disputes to arbitration which has bothered several groups, not without reason. I sort of agree with the concept, but think it's a little early to implement it.
Perhaps the greatest remaining legal risk for robocars in the USA is the chance that they might have fewer accidents than humans, but each accident will cost many times more than it does when a negligent human causes it. This is bound to happen the way the courts work. Each accident will be different, and involve a lengthy trial with depositions of all the programmers, expensive expert witnesses and lawyers looking to make a score and a name for themselves with famous, deep pocketed defendants. Compare that to regular car accidents which are settled quickly by the insurance system and almost never go to court.
I fully expect the first self-driving accidents to be very expensive. I was wrong about that, because the first one killed a homeless woman who did not have legal right of way, about the most fortunate legal circumstances Uber could have had. But my argument still makes sense, and so we'll see these expensive cases -- which the likes of Waymo, GM and Uber can afford. But it can't stay that way forever. Eventually the costs have to come in line, and legislation might be needed to fix that. But we don't need to fix it beforehand, just be ready to do so.
Here is Wired's coverage of the Senate bill.
Measuring the efficiency of scooters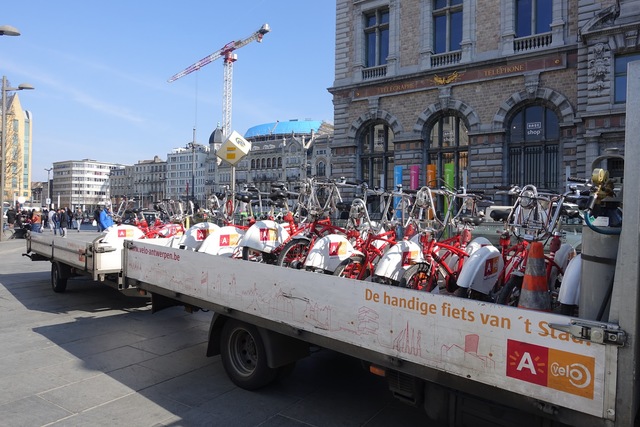 I am planning an article about the energy efficiency of the newest form of computer-enabled transportation, the dockless scooters from companies like Lime and Bird. While already raising ire for other reasons, their energy efficiency is absolutely astounding. The typical scooter of this sort uses about 18 watt-hours per mile! To put that in context, a Tesla is about 250 per vehicle mile and the average light rail is 370 watt-hours/passenger mile. Yup, those guys on the scooters are using one twentieth of the energy of all those folks on the light rail, in aggregate. That's so incredibly good that the efforts to ban these scooters are ill-advised, it is better to work for solutions to make them better.
However, the number is misleading. The reason the light rail is so poor is because it carries a lot of empty seats. The real number that matters is how many full seats something carries and the true total energy. The scooters are almost that efficient in docked scooter systems, where they dock and recharge at fixed points, but they are popular because dockless ones are much more convenient.
Each night, however, Lime and Bird and the others send out large crews of gig workers to collect depleted and out-of-zone scooters and recharge them and reposition them. The workers get from $5 to $20 to do this to a scooter. I'm trying to figure out the energy required to do that, because I think it's quite possibly higher than the energy put into the battery to move the customers (about 320 watt-hours in a typical model.)
Some of these rechargers are super efficient. They collect scooters using other scooters. They have found (crazy) ways to stack 5 scooters onto one scooter, and they zip around depositing them. Some of them also pick up and redeploy scooters along their commute, thus using almost no additional energy over the travel they were already doing. (It's a little hard because you must collect after 9pm and deploy before 7am.)
On the other hand, many are going out in cars, vans and pickup trucks to collect the scooters. The efficient ones are able to collect a lot in a small area (in the dense urban zones) and do an efficient deployment trip. They might drive a total of 5 miles to process 10 scooters -- just 1/2 mile of driving per scooter. But I've also talked to chargers who, unaware of anything besides the cost of gasoline, will drive as much as 10 miles round-trip for a single scooter.
The scooter companies track the units with GPS, so they could calculate these numbers exactly. I have asked them all to help and gotten zero response. This suggests they don't like the number. (Or rather, they don't know it yet but are afraid of what it could be.)
A gasoline car doesn't use watt-hours. However, on a rough average, if you burn a gallon of gasoline in a generator you might get around 12,000 watt-hours. That's a pretty rough figure, If we go with that, the guy stacking scooters is spending just 10-20 watt-hours per scooter moving them around. The guy doing 10 scooters in 5 miles in a 25mpg car is using 240 watt-hours (of gasoline) per scooter. In a 15mpg truck it would be more like 400. The long-distance driver is using a whopping 4800 wh to recharge a 320 wh scooter. Let's hope there are not too many of him.
In addition, not all the scooters are empty. I don't know how empty a scooter has to be before they tag it for recharge. They do want most of them repositioned to "nests" (as Bird calls them) in the heavy traffic areas. So if a scooter only got half its battery used the ratio is worse.
In the end, only the companies know, but I am interested in input on back of the envelope calculations.
On the plus side, I think the companies could make this much more efficient. Right now, they let the chargers just wander around grabbing scooters they can find. People often arrive to collect scooters 20 seconds instead of somebody else -- that's wasteful. Some people collect them (against the rules) before 9pm and "hoard" them in their backyard to claim all the bounties.
Instead, the companies could allocate efficient groupings of scooters to a single contractor. They could generate a series of optimum routes with minimal travel, based on input from chargers on where they live and what their commutes are (though they will lie about that.) They can readily stop the hoarding and probably get the driving down below 1/4 mile per scooter. They could also reward collecting in efficient vehicles like electric cars and hybrids, though that's also harder to enforce.
At a rough guess though, I'm going to estimate that the recharge/redistribute today uses at least as much, perhaps twice as much energy as the riding of the scooters does. That sounds terrible, but don't forget -- the scooter is super, super efficient on its own, so making it 2x or 3x less efficient it still wins by a large margin over anything. Anything except better managed scooters and e-bikes.
As noted, docked vehicles (with charging at dock) don't need to be moved for charging. They do often need repositioning, but with docks, that's usually a small truck with a trailer that efficiently moves scores of bicycles or even a hundred scooters at a time. In the photo above, I show a truck moving the bikes in Antwerp.
This is part one -- I have more analysis of the scooters coming up.
Have any readers taken a gig moving scooters? What numbers do you think make sense?