Announcing delivery robots from Starship Technologies (with yours truly)
Submitted by brad on Mon, 2015-11-02 08:34
I'm pleased to announce today the unveiling of a new self-driving vehicle company with which I am involved, not building self-driving cars, but instead small delivery robots which are going to change the face of retailing and last-mile delivery and logistics.
Starship Technologies comes out of Europe, created by two of the founders of Skype, Janus Friis and Ahti Heinla who is CEO. The mission is similar to the vision I laid out in 2007 for the Deliverbot -- the self-driving box that can get you anything in 30 minutes for under a dollar.
Here is the press release and a simple video and a collection of press and other videos.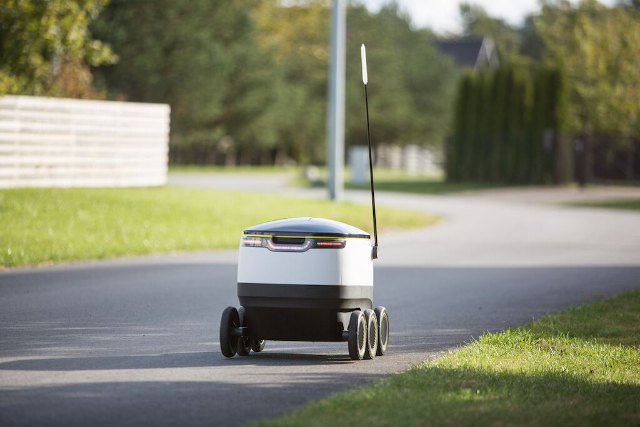 Starship is still in early stages, but will be conducting a pilot project next year in the UK, and another in the USA shortly thereafter. Customers will be able to place online orders and have a robot come to their home immediately or on their schedule.
Why is this possible well before full unmanned self-driving cars can go into public use? There are all sorts of reasons.
The boxes are not in a super hurry:

They will go slowly and cautiously
They don't mind detours, and can take the safest rather than shortest route to you
It's not a big deal if they have to pause if they encounter children or anything confusing or risky, or need to wait for a remote operator to solve a problem

They will travel on the sidewalks, rather than the roads (already legal in many places but work is needed in others)
They will be slow and light, so that if something goes seriously wrong and they hit you, they won't injure you
They won't hit you though, because they can come to a full stop in under a foot
You don't need crumple zones, airbags or other passenger safety features for cargo, making them simple and inexpensive
How big is the last mile? It's huge. It's not just what today's delivery companies do. Most deliveries are actually made by customers who run out to stores to get stuff. The Starship robot will bring you things in less time than a round-trip shopping trip would take, for less money, and with vastly less energy, pollution, traffic congestion and parking. It's a win for the store, the customer and for society.
It's a really big win for those with disabilities or difficulty moving. The elderly are going to be able to live in their own homes with greater independence even if shopping has become such a chore they were contemplating a senior home.
The robots will eventually create an "internet of parcels" (I guess the term "internet of things" is already in use) where physical goods can move around cities with an ease surpassed only by data. Not only will you be able to buy anything, you'll be able to rent things on short notice too, or borrow them from your neighbours. The sharing economy can be enabled and the meaning of ownership may change.
The convenience of robot delivery will surprise people. A common question I get asked is "What does the robot do if you're not home when it delivers?" and my answer is, "why would you want the robot to deliver when you're not home?" Regular delivery run's on a driver's schedule, robotic delivery will run on yours. Robots don't mind waiting either, so you could ask a shop to put 5 pairs of shoes into a robot, and at home you could try them on and put 4 pairs back in the robot and keep the ones you like.
I also expect interesting changes in prepared food. It will be possible to run a "restaurant" inexpensively in a private kitchen and get ingredients and deliver dishes quickly and cheaply with no wastage. A family might even order different dishes from different locations to create a meal.
Nothing is 100% good for everybody -- there will be disruption in the retail industry, and retailers who exist primarily so you can go get things will have trouble competing if they don't embrace this model, but other retailers who are suffering from competition from the online stores may find they can now dominate with fast service.
Of course, there might be competition in the air. Our students at Singularity University were among the first to work on drone delivery with the Matternet project which is beginning a trial delivering for the post office on the steep slopes of Switzerland. Both methods face legal challenges, and both have their advantages. Drones will be faster and can cover unusual terrain, while ground robots can carry more with less energy and have an easier time landing. :-) I suspect people will tolerate small robots on their sidewalks more than drones with heavy packages over their heads, but we'll see.
Note that I'm a special advisor to Starship on both technology and business, but this post is written with my own voice, and doesn't speak on behalf of the company.